According to NOAA, flooding in Virginia Beach has increased 250% since 2000. A 2017 study by the National Institute of Building Sciences found that every dollar spent now on mitigation saves $6 in future disaster costs. 2017 was the costliest U.S. weather year in 123 years of record keeping, costing $ 306.2 billion.
Warmer oceans make Atlantic hurricanes wetter, slower and more intense. A slow moving Category One hurricane could create a devastating storm surge here.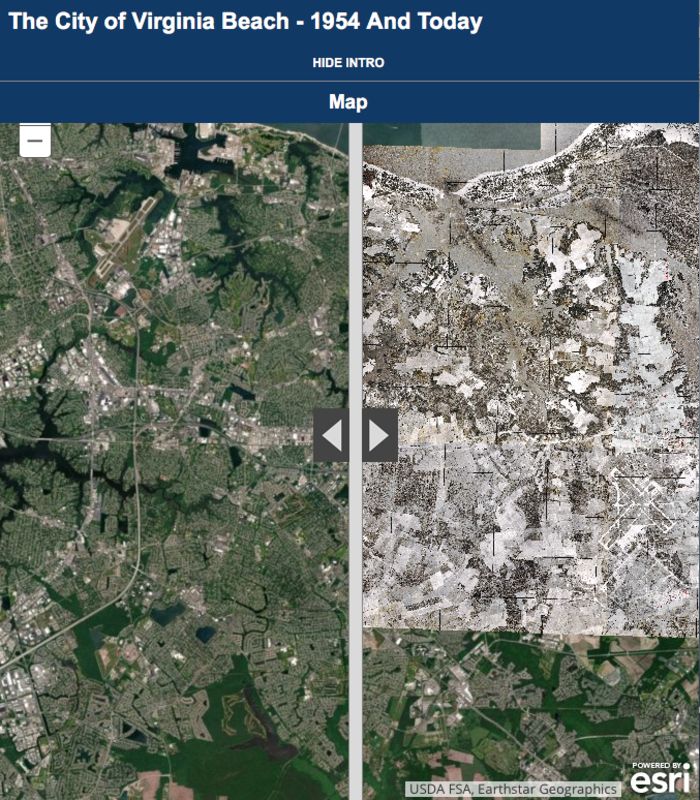 Fortunately there are cost effective solutions already available. We can offer incentives for builders and homeowners which provide an efficient way to reduce runoff from heavy rain into the storm drain system which gets overwhelmed and creates flooding. Pervious concrete in driveways and parking lots absorb water like a sponge. Mature trees slow down and absorb heavy rainfalls. This will help reduce the city's storm runoff costs and prevent the need to build other more expensive solutions to mitigate flooding.
Sea level rise is caused by increased carbon/greenhouse gas emissions. According to the Virginia Institute of Marine Science (VIMS), Sea level has risen 1' in Hampton Roads since 1960s. Expect and plan for at least a 1.5' rise in the next 20-50 years, but a 3' rise is possible if we don't slow carbon emissions.
More recent studies show a 6.6' rise by 2100 if we don't act soon.
In the 2010 GRAND Strategy the Navy identified sea level rise as the greatest threat to the territorial sovereignty of Hampton Roads. Norfolk Naval Base, Langley and local shipbuilding will be seriously impacted.
– Tax incentives to implement green building techniques such as LEED. This will also stimulate lots of new green building jobs.
– Tax incentives to make Virginia a hub for the production and distribution of wind turbines and other alternative energy. Offshore wind turbines are projected to create 14,000 new good paying jobs.
– Tax incentives to encourage small scale solar and wind power. Remove punitive charges for large private solar systems.
– Tax credits for the purchase or lease of electric vehicles plus incentives such as HOV Lane access and reduced personal property taxes.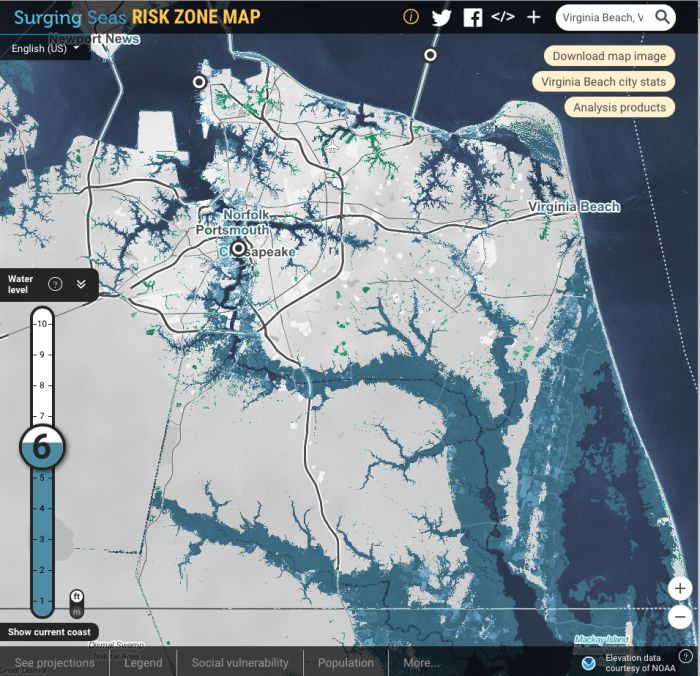 Climate Central Surging Seas Tool
Virginia Institute of Marine Science